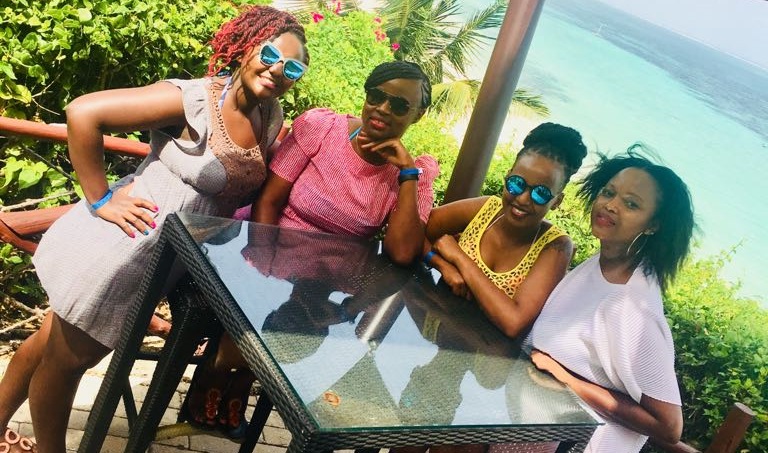 Welcome to my Babylove Network Blogspot!! | Pauline

After months of contemplating about starting a blog, I have finally decided to take the first step and actually do my first blog post. Special shout out to my FB Family for encouraging me to start blogging!
I actually struggled to pick what my first topic would be! But then after the awesome birthday weekend I had in January, I thought why not start with that!
As a January baby born in the 80s, (and I'm sure many Jan babies my age can relate) my parents were very quick to inform me that my birthday gift was the school fees they paid, the uniform they bought and all other related school supplies because most schools in this side of the Motherland open during the first and second weeks of January. So growing up my birthday was just a normal day with nothing much to write about.
When I joined Campus I met a couple of birthday celebrations starved January babies and we all came up with an exciting party idea and we dubbed it 'Jan Fest'. Those were some good old days!
We would all 'changa' some cash and go to one of the locals near Campus, book a venue, get our very own local Disk Jockey (do people still use that term?), DJ E the Turntablist. Back then he was a struggling (skinny) DJ just trying to get by and we were one of the first people to discover him so I guess you can say he owes us! Right now he is a big shot DJ, co-founder of Mzuka media group, one of the top DJs at the Carnivore and the official DJ of the Churchill show but the thing I admire most about Ndungu (yes, that's his real name) is that he still remains down to earth, humble and never forgets where he came from.
So DJ E would hold it down for us at our parties where we really had some good times. This reminds me one of the other founders of Mzuka (Eli) promised us a proper Jan Fest in 2018 and we are now in February but we are a patient lot! Anyway I digress.
The Jan fests would continue even after we graduated for a few more birthdays before life happened and guys started drifting apart.
I then decided to start my own birthday traditions most of which was just grown up stuff like dinner with friends and maybe a birthday cake. Growing up sucks!
Then in mid-2016 I became a mummy for the first time and I had the worst first birthdays as a mum in 2017. I was still breastfeeding so after one of the longest days at work I still had to go home and take care of Tish's feeding needs! Oh by the way Tish is my beautiful, amazing, incredible daughter!
So there and then I made a promise to myself. That my next birthday would be legen….wait for it….dary (Sorry, I just had to do that. How I met your mother fans can relate). I decided I was going to save and treat myself to a holiday with either family or friends but without Tish.
As an FTM (First Time Mum) I felt I needed to reclaim Popoh. I think most FTMs feel me. I saved every extra penny and hustled extra hard to make sure my Jan 2018 birthday would be lit and more importantly it would mean some time out for me.
Those who know me also know that I don't joke with vacations! I save like old white people for vacations. These wazungus really know how to save for their holidays! So I quite like that I have adopted this trait. I always like to save for my holidays. Even if it means sacrificing some luxuries during the year just to ensure we have a break as a family in Mombasa (I'm obsessed with the Kenyan Coast).
So my 2018 birthday weekend checklist was very straight forward – Beach, Yummy food, Good Company, Wine, Somewhere to go Dance and a Massage. Oh and no Tish. Trust me I love my little munchkin but sometimes you just need a bit of a break from her energy and enthusiasm to just chill!
I did what any other reasonable Kenyan would do. I formed a WhatsApp group! Kenyans are obsessed with WhatsApp groups. We form WhatsApp groups for everything! Then within the WhatsApp group a few crazy Kenyans will form a second WhatApp groups with three-quarters of the same people from the original WhatsApp group. It's all a bit silly!
So yeah I formed a WhatsApp and got 3 of my closest friends who also needed that get-away and who are so much fun. These women are so hilarious and so REAL and I am in love with real people. The initial idea was to have many more of my girlfriends but some chickened out and some attempted to suggest that we carry our husbands! – No thank you. This was going to be a girls' only affair so we finally ended up being the four musketeers – Sheero, Nimu, Esther and myself.
My birthday was actually on 12th January which was perfect because it was a Friday. We landed in Mombasa at 10.20am and we were fully settled in the hotel by 1.00pm in time to have some amazing lunch, enjoy some wine and laugh the afternoon away.
In the evening the hotel did the whole birthday song thing, all summed up with some delicious cake after which we headed out to the club and danced the night away! . As a mum it was so liberating to take that time out to just go out, have fun with the girls.
Back home Baba Tish took over like the BOSS he is and my daughter didn't even get a chance to miss me which is so cool because it means I can go for more trips alone.
Another highlight of the weekend was getting a massage at the hotel's massage parlor which had an amazing ocean view. It was a perfect 90-minute relaxing massage and just what I needed to shut down my birthday weekend.
So that is how I spent my birthday and this blog is a gift to myself for 2018.
I want to put down my crazy thoughts, experiences and fitness journey (you guys will be my accountability partners on this. I need to get back my CURVES).
I look forward to going through this blog with my grandkids and laughing at how things change but remain the same.
So subscribe, comment and let's learn from each other.
Let's keep this space fun and respectful!