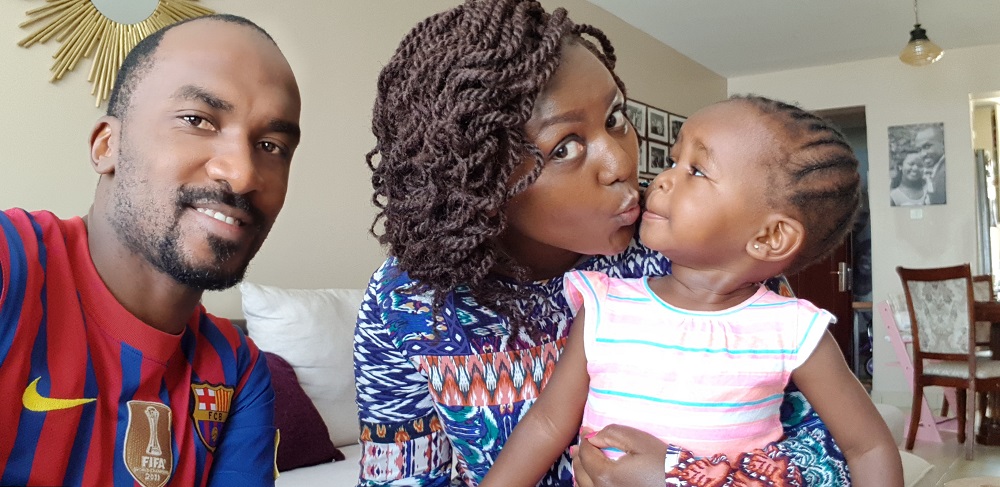 Terrible 2 or is it Terrific 2 ?
March and April have been very interesting months! A lot has been happening and I lost some momentum on my new blog; then I remembered this blog is about my memories  about the things I will be reading and sharing with my grandchildren.
So I have had to just get my head straight and talk about this issue: growth of kids. Things like, a really sweet obedient girl just starts wailing the minute you walk into the house and she stays glued to you till she sleeps. Stuff like, my Tish who has zero respect for personal space; I go to the toilet with her. Yes! And she is next to me laughing – or is it giggling – and mumbling things. While I shower the door has to be open so that she shows me things from my dressing area. I need to keep a conversation going, or else she will wail!
Someone asked me what Tish stands for. She thought it was for Tatiana or Trina; Tish stands for Atieno. Yes, my daughter is named after my awesome mum in love. She is almost 2, so she understands pretty much everything. She can speak some words, which she uses when she feels like. So one day she is answering you, then for the next week or two she pretends she has forgotten how to talk and uses her head and Chinese gibberish! Well, we end up communicating at the end of the day.
So my daughter turns 2 in June. Our small baby who turned our lives upside down is growing up so fast and we have not had a family photo shoot for so long. When she was born we did like 6 professional photo shoots. I love good photos, so I am thinking of a mummy daughter photo shoot for her 2nd birthday since Baba Tish does not feel all the photo-taking vibes. I will be sure to share the photos on this blog. As of now I am working on our outfits – matchy matchy outfits all the way! That's the only way to execute a mummy-daughter photo shoot in the streets of Nairobi.
Heads up to the mums like me who like some sort of routine with the baby. Just get ready for your child – who by the way can soothe herself to sleep – to suddenly go back to a stage where she wants to be rocked to sleep. Yes, that's how I get Tish down some evenings; I have even shared a bed with her. The first like 2 times she was unwell, she woke up in the middle of the night with a bad cough, so I just wanted to hold her and make sure she was okay.
We did the co-sleeping for like 5 days, though not consecutive. Tish's Dad and I remembered how comfortably we have been sleeping and we said no to that arrangement. Still, if I am putting her to bed I have to rock her after like 50 kisses and 70 hugs. I am also so amazed at how fast she is growing so I am enjoying all the cuddles and love.
Girls play a lot. Tish can't let me nap on Sundays. She even starts putting all her toys on me, climbing on my back; and if I ignore her, wailing starts. Even though it's suffocating at times, I know this is only for a season and we all need to enjoy the different seasons in our lives.
On my health goals, I am excited that I keep showing up to the gym. My neck sweats accordingly and of late most of my face has joined the neck in the sweating competition. I love the awesome feeling after a proper work out! I haven't lost any weight, though. Yes, the scale is still the same! But my inches are feeling the change and my mood is better – well, it depends on who is asking. I sleep so well – like sleep is never enough.
Burpees progress – I finally got what burpees are and I can do the basic burpees: 3 sets of 10 each, such an awesome achievement!  And I keep working to do them better and do more. They are awesome for my whole body.
I had to do this blog now and post it because a few mummies keep encouraging me and telling me how much they relate to my mummy shenanigans, and I love it. This journey needs to be shared and celebrated when we are being super mums, lazy mums, cranky mums, disciplinarian mums, and tired mums. Like am so tired of late but I still get some adult and mum stuff done.
Happy Belated Mother's Day to all the lovely ladies! I am thinking of a special group right now; those who are yearning to be mothers please let's mind our wombs when dealing with this group. I pray with you all during this time of waiting.