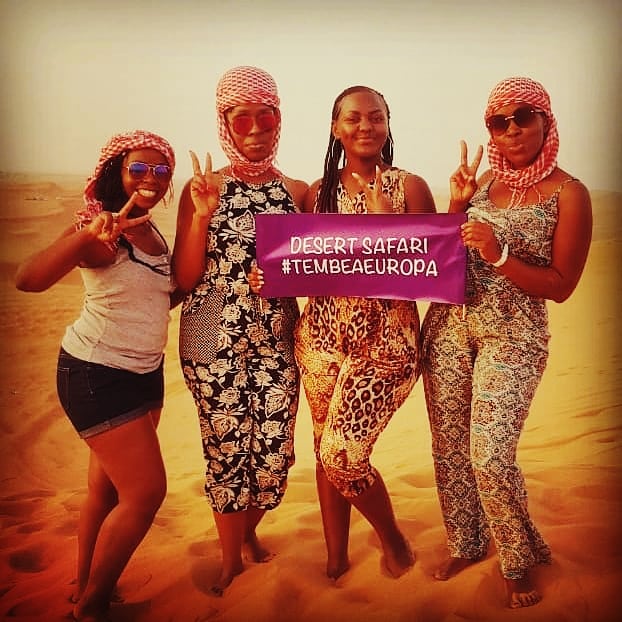 This is my second travel blog and as I promised in my thanksgiving blog post it was going to be about an international trip with my girls. I am so excited to even blog about this because getting six ladies to go for any trip together is a miracle in itself!
Let's be honest; Planning trips with friends is always tricky. Most times you will start with a group of even 20 or more but as you approach the D-day you normally consider yourselves lucky if 2 to 4 of you are still up for it. So, 6 was a win!
In my first girls' trip blog, I mentioned that some of the friends I wanted to do that initial trip with had proposed we go with our hubbies, a suggestion that was written off as soon as it was brought up! Well, I guess they saw from that blog just how much fun the four musketeers (Sheero, Nimu, Esther and Myself) had, because some of them joined me for this second trip.
The other three musketeers were not able to go for this one, but I have a group of special ladies who I met in 2016 when we were all experiencing pregnancy for the first time and we have been close ever since so they were my squad for this trip.
The first thing we did was open a WhatsApp group (I know many people find WhatsApp groups annoying but I'm not one of those people. I'm what you might call a 'WhatsApp Group junkie'). Anyway, we can debate the pros and cons of WhatsApp groups another day.
The next thing that was decided was the destination and we were all in favor of going to Amazing Dubai. As we talked to different people who had been to Dubai we initially had this bright idea of booking the trip ourselves because we thought it would be much cheaper this way. Then as we kept talking to more people, I was advised that if you are in Dubai you have to visit Abu Dhabi – must! So, we soon realized that we needed more than the 4 nights we had initially planned for and we settled for 7 nights, to include Abu Dhabi. This meant getting someone to help us with booking the activities, hotels and so on.
We were introduced to an awesome travel agent and as I talked to her about the trip I happened to mention that I had just registered my 'ka side hustle' (which is what we Kenyans like to call businesses we do outside our day jobs) which just happened to be a travel agency – Tembea Europa.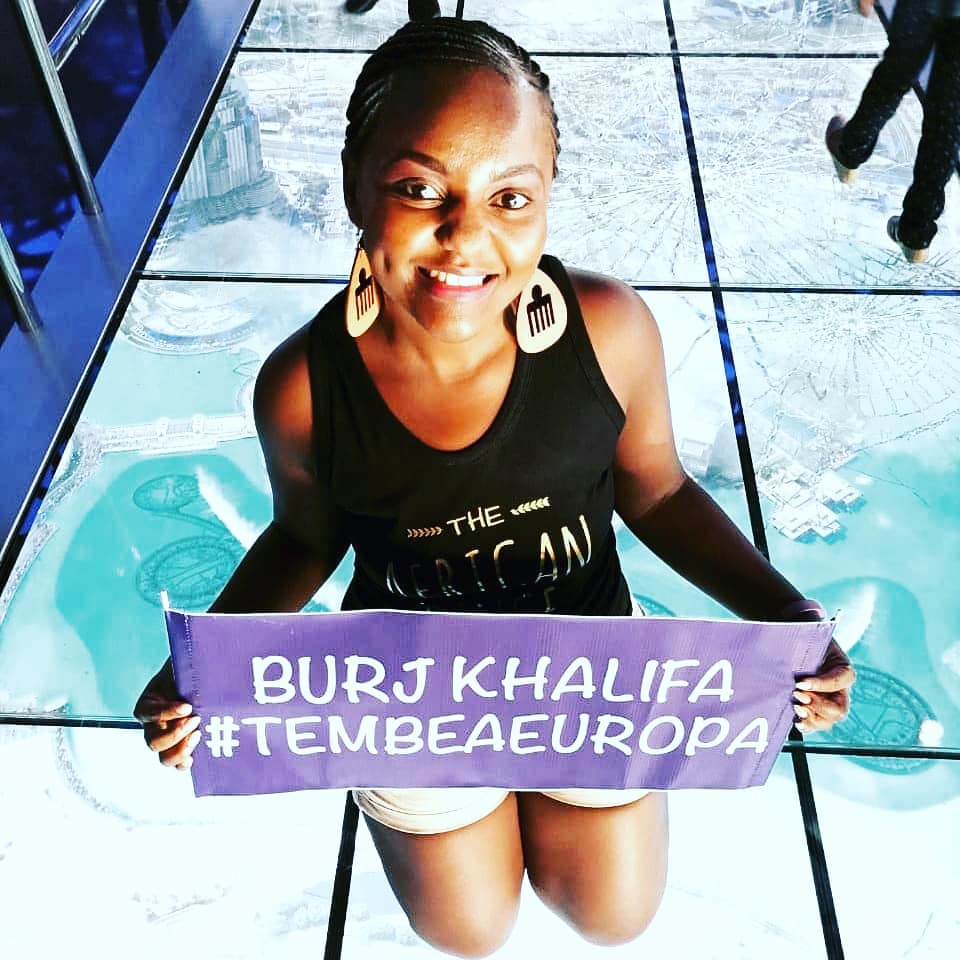 My initial idea was to focus on trips to Europe but as I talked to her she convinced me to expand my horizon and include Dubai. Not only that but she agreed to let Tembea Europa plan this Dubai trip with her and she would show me the ropes. How cool was that? All God's timing, I believe!
Now she has become my mentor as I venture into the travel agency business and she has made the transition that much easier. (By the way my 'ka side hustle' has now become my main hustle – again story for another day).
One of the things that excited me the most as we were planning for the trip was the fact that we would get to visit all 3 main theme parks in Abu Dhabi! I absolutely love theme parks and I have been to Disneyworld in Orlando, Florida and the one in Paris which we visited with my sister and one of my closest friends. Basically, when I hear the words Theme Park my heart dances and flips in pure joy!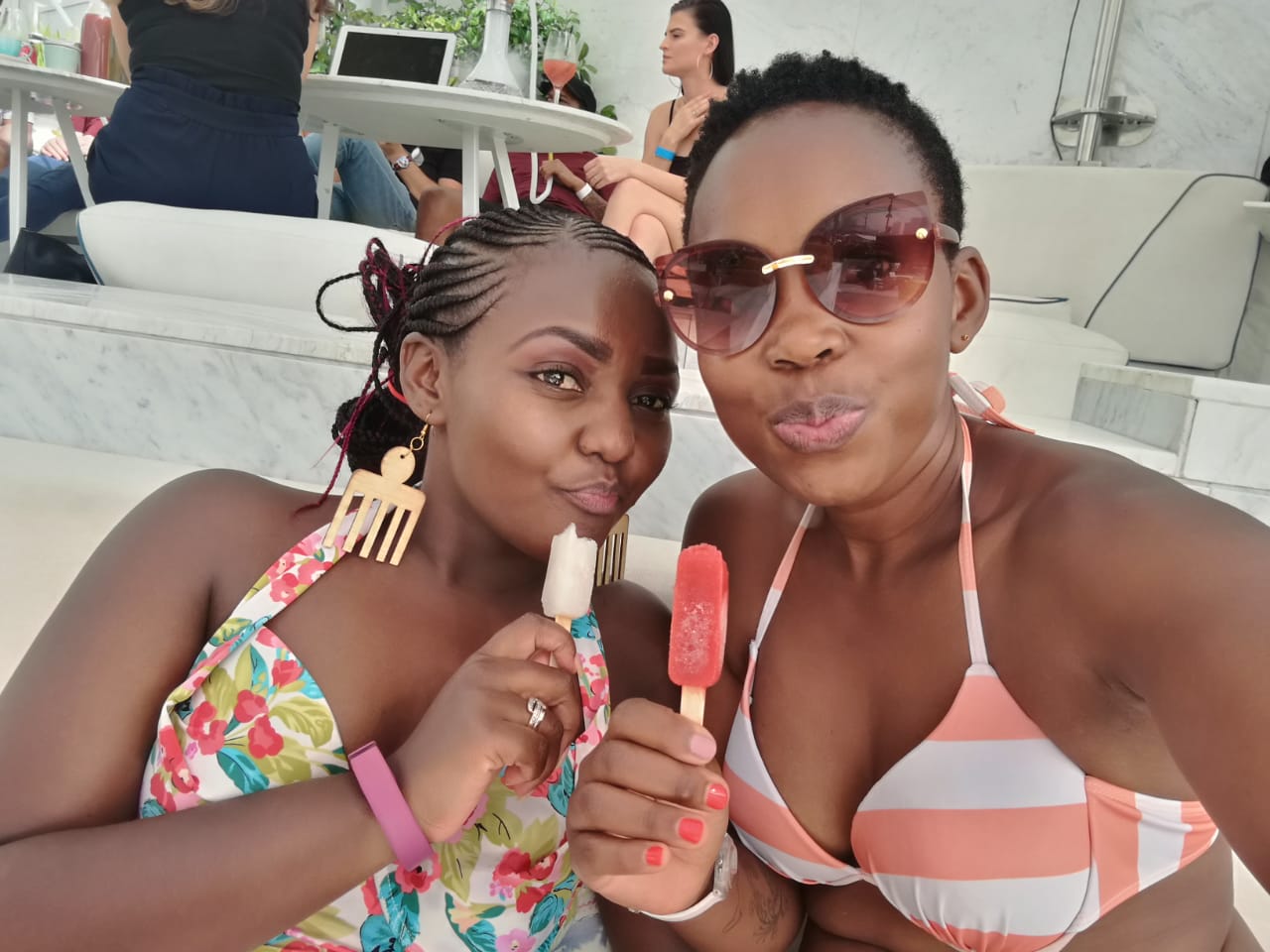 Another useful tip we also got was to look out for offers from Emirates. All we had to do was be ready with the cash and wait. The offer did finally come, and we got amazing ticket deals from Emirates and I absolutely loved my experience with the flight.
Our WhatsApp group which had started with about 20 members was starting to whittle down by this time as expected and we soon had to make that painful decision of asking people to exit the group and we reduced it to only the ones who had paid for the tickets.
Baba Tish (hubby) kept asking me if I am sure people will come through, but I kept telling him that we would be at the very least 6 of us because that's the number of people who had tickets.
We had the most extra of 6 ladies and we got matching tees and all the shenanigans that makes hanging out with women so much fun and beautiful. We were even supposed to get some cute check in luggage covers but we settled for just the right amount of extra and ditched that idea.
So on the travelling night we got to JKIA donning our tees which had the words 'squad goals' aptly written and of course we took lots of photos at the airport before boarding our Emirates flight. I loved the food, drinks and entertainment on Emirates and it lived up to its name for sure.
We landed in Dubai the following morning (which happened to be the birthday of one of our squad members). It was a very long walk to immigration, but once there the process was pretty fast and we were done in no time. We had requested for some very extra signage at the airport pick up only for us to walk out of the airport and just see my name on the signage. We were a bit disappointed, but it was 5.30am so none of us had the energy to complain – but that was the only minor blip to an otherwise amazing trip, so that's ok.
We stayed at an awesome Hotel in Dubai right next to a mall and a metro and so many other amenities which made the Dubai Shopping Festival so much better for us. Quick Fun fact – January is winter in Dubai but it's like the January heat in Nairobi so it wasn't too bad, and it also happens to be part of the shopping festival month.
Our first day started on a high as we had an exciting afternoon, all planned out. We attended a Ladies Day at one of the Hotels where we got a 2-course meal, unlimited cocktails, sangrias, shots and some good entertainment. It was at the poolside of the hotel, so we also got to take a dip in the pool.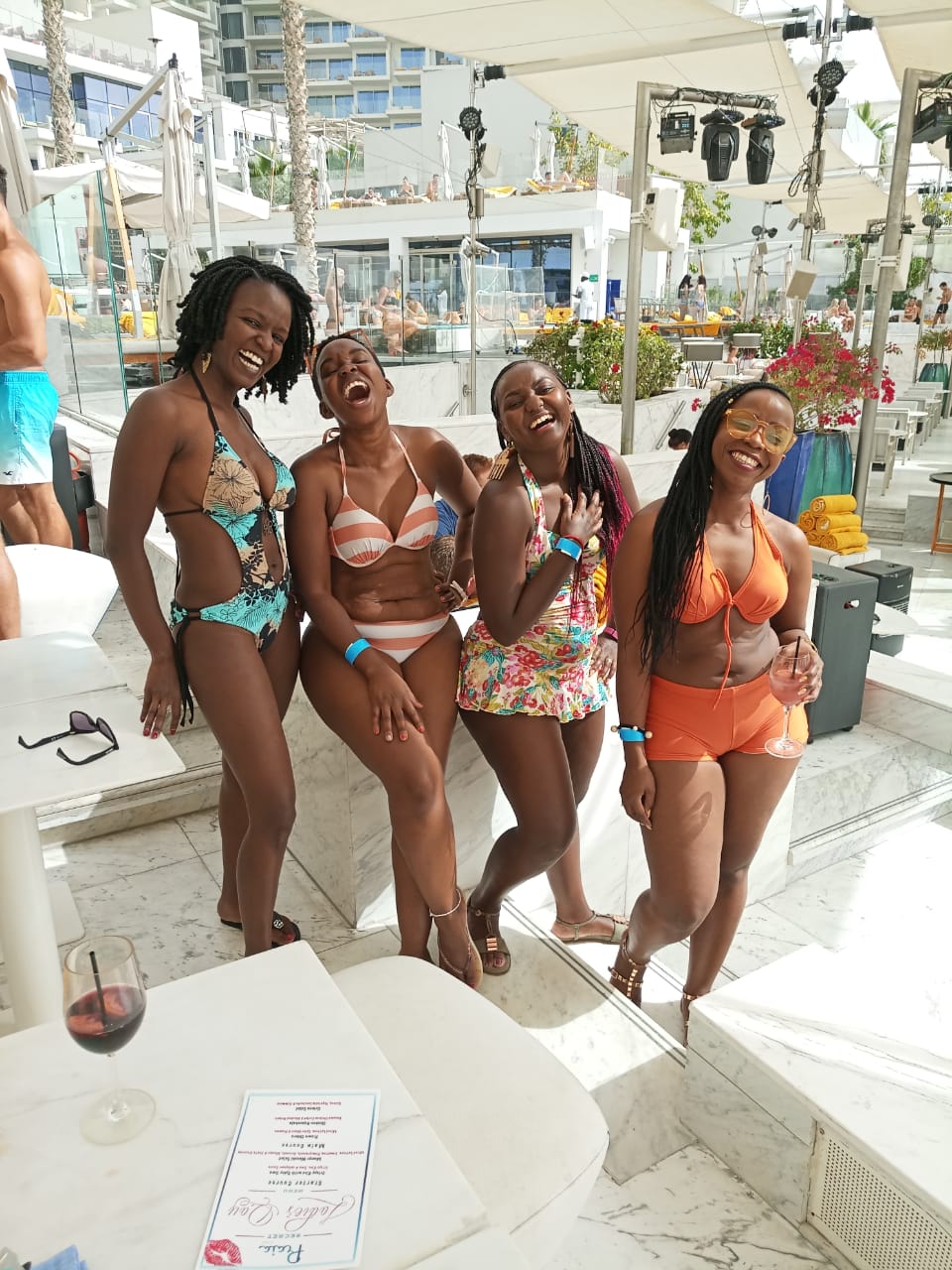 We had an amazing time! We ate, drank, danced, laughed and took lots of fun pictures. Afterwards we had dinner inside a dhow, which we really didn't enjoy – because it seemed more like a couples' plan. The night was still not over though; we had to go and see the famous KIZA Dubai, which lived up to its hype!
Interestingly, we kept meeting so many Kenyans in the different venues and they would be so excited to hear us speak Kiswahili. It was real fun meeting and interacting with them. They really were amazing, very helpful and doing such a good job in their respective areas.
The mall next to us had a Bath and Body shop and those who know me know that I am obsessed with their lotions and shower gels and I stocked up for the whole year. There was a Kenyan working in that shop so and he was super helpful and patient, ensuring I always got what I was looking for.
One thing I concluded is that I am not a fan of shopping! I would go to a clothes store and come out with nothing or sometimes just one item. I would end up going back to the Bath and Body store for more lotions, splashes and shower gels. I also needed a perfume and a cologne for Baba Tish and I got a store in the metro just near our hotel that had the best sale. I felt like a real boss when I bought them at such a good price.
I had vowed not to buy anything for my daughter because this was my birthday treat (and she has so many things to be honest – so please don't judge me) but she still got some cool stuff because baby things are just the cutest.
On the second day we headed to the Desert Safari which was such a thrill. Before we did the actual safari, we had like an hour to enjoy the quad bikes, so we got one that would fit all of 4 of us who were brave enough to attempt the ride.
There was plenty of screaming though because two of the ladies who volunteered to drive love speed and they made sure we all got a taste of the thrill.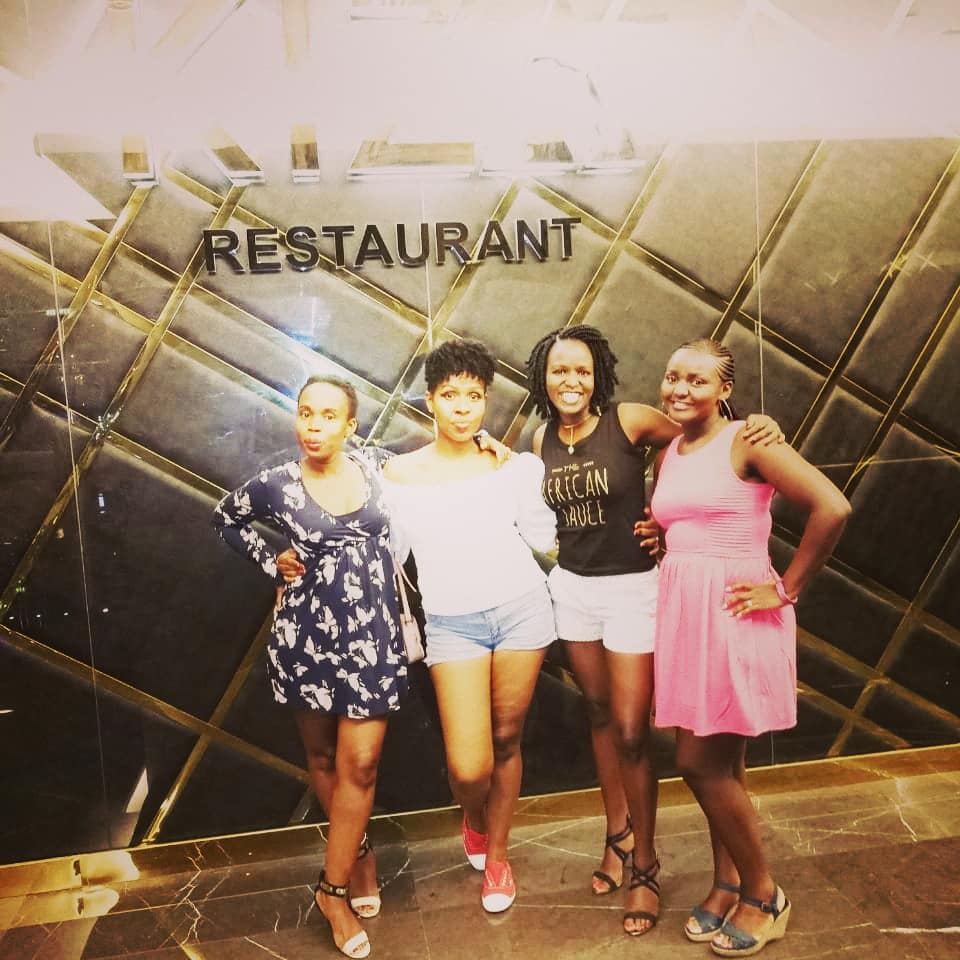 The actual desert safari was lots of fun. We had the best driver who made the whole thing so much more exciting. After the safari we took some amazing photos and I started my social media business pages after this day because one of the ladies took a picture of my company's name in the Dubai Desert sand and I was like this is it girl! You are living your dream and it's time to get the hustle done – Don't ask me what this means. Just sounds like the perfect thing to say at this moment. We finished the day with dinner right at the desert which included some amazing entertainment. The belly dancer wowed us, and she was so gracious and flexible!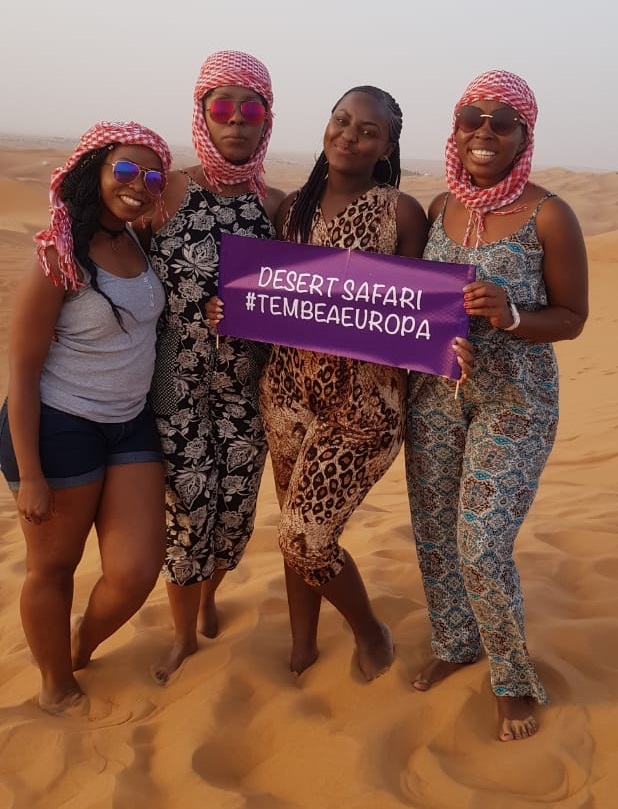 On day three we had the Dubai City Tour all planned out and later we would go to Dubai Mall and go up Burj Khalifa and enjoy the Dancing Fountain. This was such an exciting and tiring day because Dubai Mall is HUGE with so many stores and things to do.
You can visit my social media pages (Facebook. https://web.facebook.com/TembeaEuropa/ Instagram. https://www.instagram.com/tembea_europa/ ) where I have outlined some of the activities at Dubai Mall. The views at Burj Khalifa were amazing and we got some amazing pictures from up there. The dancing fountain was the best part for me. It was an amazing show and I absolutely loved it!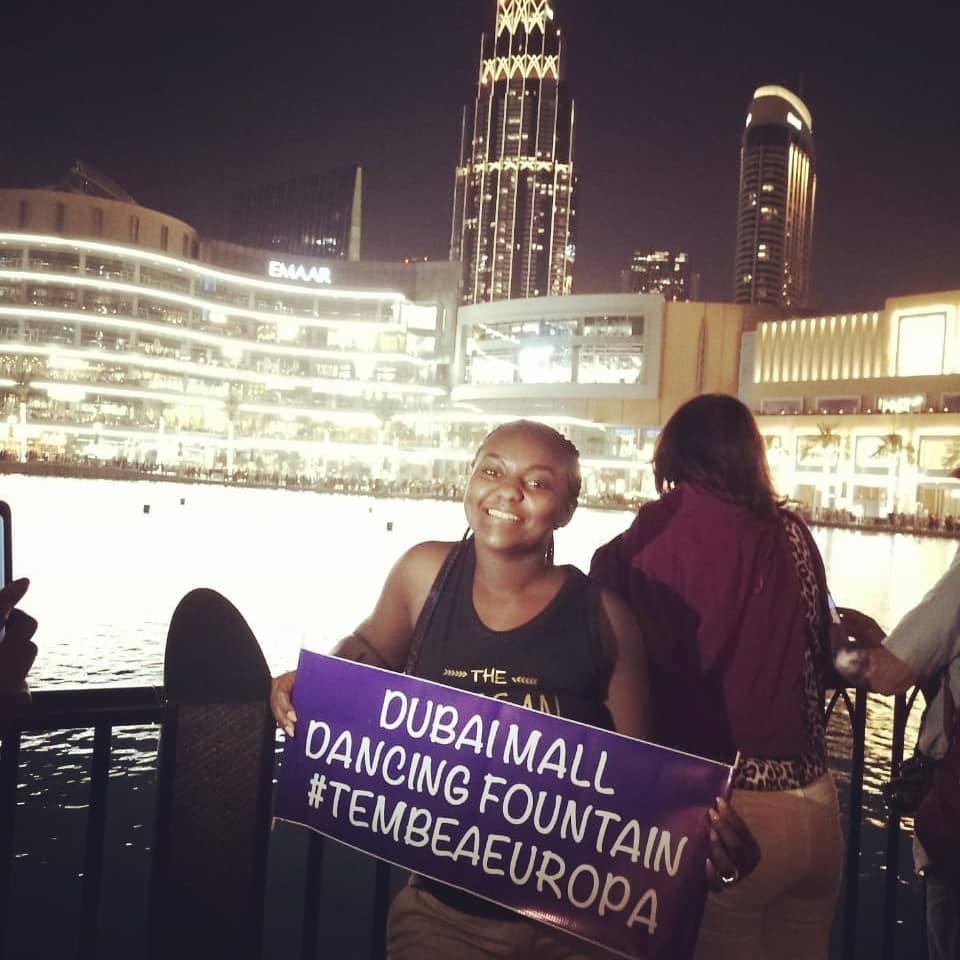 Dubai activities are quite exhausting, and you do a lot of walking so my advise would be that you ensure you have proper walking shoes and that you hydrate as much as you can as you enjoy the sights and all.
We were just winding up with Dubai and so we had to finalize with all our last-minute shopping and all because the second phase of our trip was going to be out of this world. Keep it locked for part 2 of this amazing trip.
Don't forget to like, share and comment on the section below mainly because I want to know I'm not just talking to myself.